Optimising a website can be overwhelming when you're getting started. Figuring out what to do and how to do it can be tricky.
I'm going to start out by saying, I'm by no means an 'expert'. At all.
However, I have worked in marketing for around 4 years now and I'm currently studying Marketing at University. Both my parents are also marketers, so some of their wisdom is bound to have rubbed off on me.
Recently, I know a lot of people that have been setting up new businesses and setting up websites. A lot of those people have been asking me for some guidance on how to go about optimising a website for Google. Essentially the basics of Search Engine Optimisation (SEO).
I'm not going to advise on how to create a website, because frankly that is not my strong suit. I am however, going to offer some advice on how to get started and things to consider when it comes to optimising a website.
KEYWORDS
Keywords are, well, key. They can really make or break how you perform in search engine results (Google, Bing, etc.). So the first thing you need to consider is your keywords.
Let's break it down further.
What are you selling? What are your products or services? What exactly is it you're offering? What searches do you want to appear for?
The chances are these things could be quite vague, e.g. ceramics or womenswear designer, at least to start with. But the trick is to go further, get specific.
If your keywords are vague and broad, then the search results are going to be broad. And with that, you'll find yourself competing with the 'top dogs'. These 'top dogs' have a HUGE budget that means they will always appear before you on search results. They have the dominance and resources to outperform you.
So you have to be SPECIFIC.
I appreciate this may be easier said than done. That's what keyword research is for.
KEYWORD RESEARCH
Start with your keywords. The keywords that represent what you're offering to your customers.
(I find a spreadsheet works in your favour for things like this).
Then you have your tools.
There are SO MANY online tools you can use to help with keyword research, some free, some paid – that's up to you and your budget.
GOOGLE
This one is free (hurrah!). Search your keywords and see what appears in the results.
Look at who's appearing top. Is it Amazon, Wiki, etc? If it is, you're going to need to get more specific with your keywords.
If it's not, and smaller sites are coming up, the chances are you'll be able to get into the rankings.
Scroll to the bottom of the page. Right where the related searches are.


These are another great way for you to identify more keywords. They offer more terms that people are searching for that are related to your search.
It's a good start to give you some insight.
You can also keep an eye for the questions that sometimes come up in search results. They can also be great.
UBERSUGGEST
A really, really handy tool that will give you a bit more insight.
Ubersuggest by Neil Patel allows you to find related keywords to those you're researching and provides you with the necessary stats to know how easy it'll be for you to rank for them. I.e. how easy it'll be for you to be higher up in the search engine results.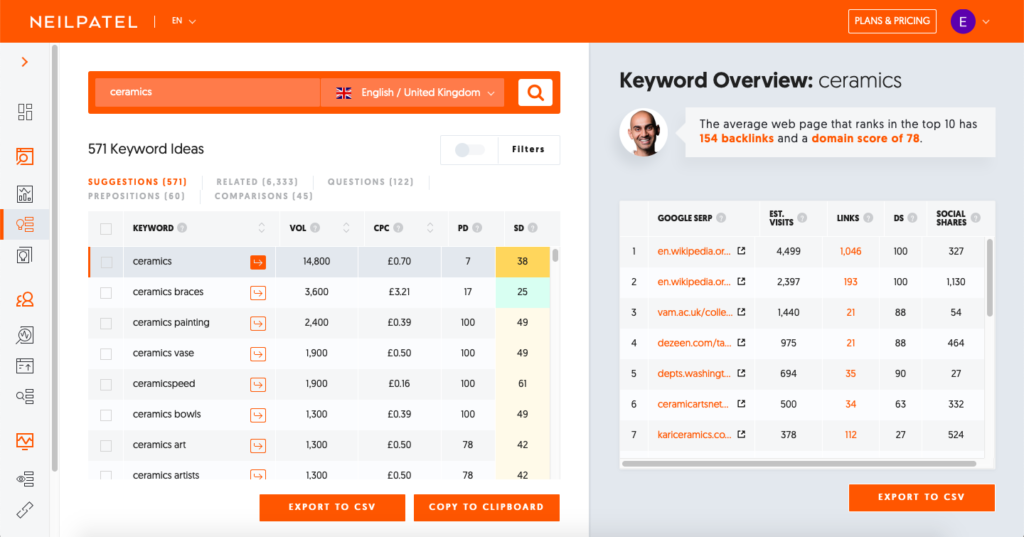 To make things simple, you want to look at the volume & search difficulty (SD) columns.
CPC and paid difficulty (PD) are unlikely to be necessary at this point. They related to when (and if) you start using ads and paid traffic.
In ideal world you want a large search volume, and a low SD. The SD scores are out of 100.
MOZ
Moz offers a similar insight as a Ubersuggest. However, there is less focus on search difficulty.
Using multiple tools depends on how far you want to investigate potential keywords. It's completely up to you.
CONTENT
When optimising a website, you're going to need content.
The good news is, if you've done your keyword research effectively, the content writing comes fairly naturally. Plus, if you're creating a website for your business you should know what you want to be writing really.
Whilst writing solid content is important, you also need to optimise it.
This can feel like a big ol' jump into the unknown.
Each page will need to be optimised for a keyword (this is where your keyword research comes into play).
You can also only use a keyword once, i.e. you can't optimise 4 pages for 1 keyword.
This is why knowing what you're selling, and doing keyword research is important. Because this will help to guide you in what keywords to use, where to use them, as well as to give you options and variations of keywords.
TIPS FOR OPTIMISING CONTENT
The keyword must appear in the heading or title of the page
The keyword must be in the first paragraph
Ensure the keyword is in the URL for the page

BUT, try to keep the URL short – Google prefers shorter URLs. Ideally it'll just be the keyword.

Include the keyword in the meta description (& the SEO title too if applicable)

The meta description is the bit of writing that comes up underneath the site title on search results – so make it enticing too!

They keyword must make up 0.5-3% of the word count.

This refers to the keyword density. For example, if you're page has 300 words, the keyword must appear 2-9 times in the copy.

If you have images on your page, ensure the keyword is in the alt attributes tag.

Before you upload the image to your site, it is also a good idea to change the name of the image to your keyword.

Don't make your keyword (or key phrase) longer than 5 words

Long tail keywords are great, but don't make them too long!

Finally, links:

Include at least 1 internal link (links to another page on your site)
Include at least 1 outbound link (links to a page on another website, like your social media links)
NOTE: The more links you add, the less valuable each of them become. So don't go crazy 🙂
YOAST
If you're using WordPress for your website, Yoast is a great plug-in to use that guides you through optimising all of your content. It essentially creates a form of checklist for you to go through.
SEMRush
Another good tool for optimising content, as well as many other things. Specifically for optimising a website's content, install the SEO Writing Assistant for Google Drive. This also gives you a checklist of things to do to optimise copy for a keyword.
And that's it really.
(She says casually, haha)
All that's left is to share your lovely, optimised website however you wish too.
I completely understand this may sound like a lot, but I'm hoping this has helped to somewhat simplify the process. At the very least, I hope it offers you a good stepping stone 🙂
For more information, that's a bit more detailed, click here.
Have a good day folks!